Get this free Easter egg printable to keep your kids busy at home. You can print them and use them for coloring. Or you could do a cutting and sticking activity, which is what I did with my 3-year old.
Good to know: Cutting and sticking activities help strengthen a child's fine motor skills. Cutting is a pre-writing skill that exercises the very same muscles needed to grasp a pencil. Sticking exercises a child's fine motor skills as he tries to pick up each piece of paper, put some force to push the paper onto a template and let go of the piece of paper. These are all such simple steps which we take for granted as adults. But for young kids, these simple activities develop their creativity, strengthen their finger muscles and exercise their eye/hand coordination.
So grab the free Easter egg printable and get your little ones to start cutting, sticking or coloring!
There are only 4 things you will need for this cutting/sticking activity:
An Easter egg printable. 4 Easter egg printables which you can print for free. The 5th template was intentionally left blank, meant for kids who would like to extend their creativity and design their own Easter egg from scratch.
Any type of colored paper, crepe paper or even wrapping paper scraps
Scissors for kids
Glue stick
I started by letting my 3-year old cut up the pieces of paper into small shapes – squares, triangles, etc. Some came out odd shaped (or even torn) as she was still trying to grasp the art of cutting straight. That's all ok!
Let your child choose a design from one of the 5 Easter egg templates. Then have him spread glue stick all over the egg. And for the fun part – encourage him to stick, stick, stick. I love this craft because it is easy enough for a toddler or preschooler to do with minimal help from an adult. Plus it is relatively mess free (compared to paint).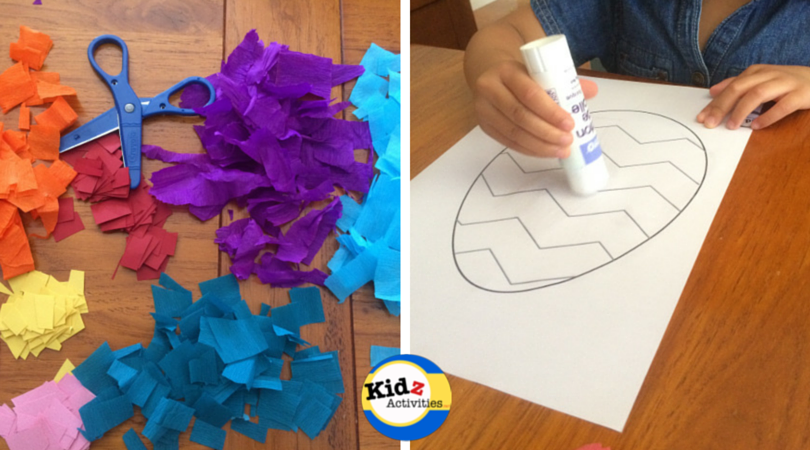 My 3-year old decided to go for the blank template and stuck all kinds of things randomly. My older kids joined in at this point and created patterns, as seen in this zig zag designed egg.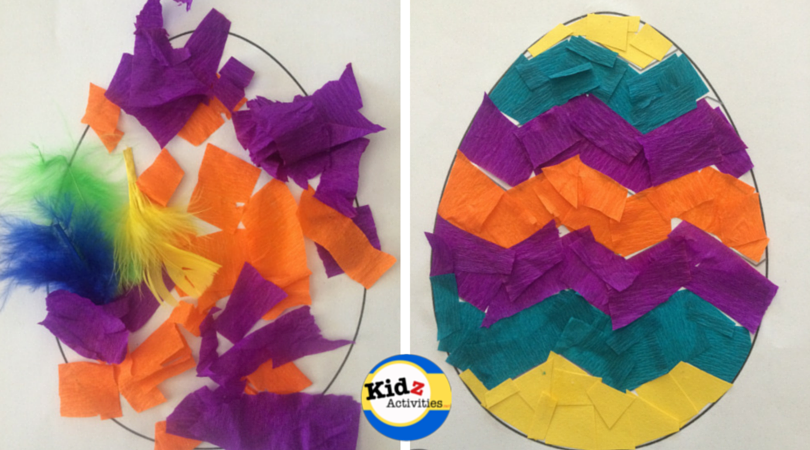 And for the circle design, my 9-year old covered the entire egg first with blue crepe paper. Then she decided to stick crumpled crepe paper into the circles.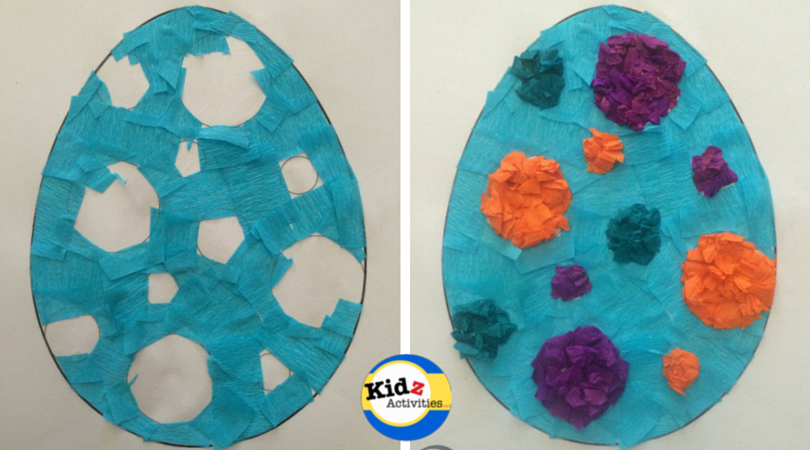 This Easter egg printable is very versatile. In the end, my 5-year old decided he wanted to color it in instead. While my 9-year old decided to cut out their creations and stick them on the walls as Easter decor!