7 Egg Recipes that Kids Will Like
Eggs – a very versatile ingredient that can be consumed during any part of the day – breakfast, lunch, dinner or anywhere in between. It is quick and easy to prepare. And best of all, eggs have many health benefits. It is a great source of protein, it is low in calories, and it contains high levels of antioxidants. It is also packed with nutrients, specifically vitamin D, vitamin B12, selenium and choline.
To my detriment, however, my picky eater won't eat them. She baulks at all ways to traditionally cook egg – sunny side up, scrambled eggs, omelettes, boiled egg. So in order to include egg in her diet, I had to get creative.
So here is my list of 7 creative ways to get kids to eat eggs:
1. French Toast
French Toast is a great way to add eggs into the diets of picky eaters. Try this easy French Toast recipe for kids to give kids a nutrient packed breakfast (or snack)…
Easy French Toast Recipe for Kids
This is the second most popular breakfast choice in our household (the first one is Pancakes, which also contain eggs, but in lesser quantity than French Toast). French Toast is an easy breakfast to whip up. It is filling and could be served with fruit, providing kids with a nutrient packed breakfast to start off their day.
Ingredients:
Butter
2 eggs
1/2 cup milk
5 slices of bread
Ground cinnamon
Maple syrup
Optional: Strawberries, Bananas or other fruit
Method:
Whisk together eggs and milk in a bowl. Set aside.
Set frying pan to medium-high heat. Add butter, swirling the pan to let the melted butter coat the base of the pan.
Dip a bread slice in the egg-milk mixture, coating both sides. Cook in pan with butter for approximately 2-3 minutes per side, or until golden.
Repeat with the remaining bread slices.
Sprinkle French Toasts with ground cinnamon.
Serve with maple syrup and sliced fruit. Enjoy!
Note: The kids get a kick of fanned strawberries on their plate. It's pretty and it helps make the meal look more appetizing. To do this, simply cut off the green stem, then create 5-6 slits vertically from the tip of the strawberry (without slicing up to the very end of the strawberry). Carefully slide out the strawberries, creating a fan.
2. Carbonara
Traditionally, Italians prepare carbonara simply with eggs, bacon, onions, parmesan cheese. My carbonara recipe however, contains cream mixed into the eggs and parmesan cheese. The children love pasta and specifically this carbonara sauce, because of its creaminess.
Pasta Carbonara for Kids
This Pasta Carbonara for Kids is a very quick and easy meal that my own children absolutely love! Here we share one of our favorite kid friendly recipes of all time.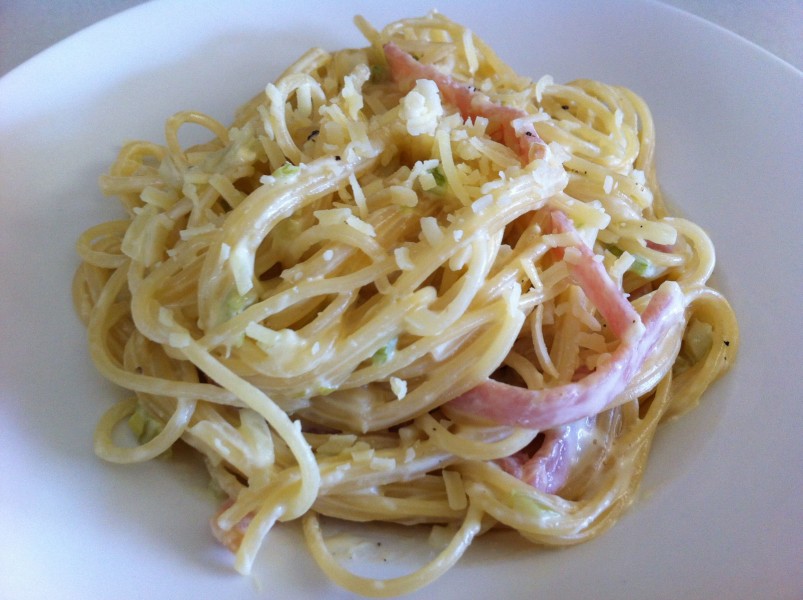 Ingredients:
500g. pasta (spaghetti or fettuccine work well with carbonara)
3 cloves of garlic, chopped
1 medium onion, chopped
1-2 stalks of celery, finely diced (optional)
250g. bacon strips
600ml. cream
3 eggs
1 cup parmesan cheese
Salt and pepper
Method:
Cook the pasta according to the packet directions. Drain and set aside.
Mix the cream, eggs and parmesan in a bowl until well combined. Season with salt and pepper. And set aside.
On medium-high heat, saute the garlic, onion and celery (if you decide to put it in… I finely dice the celery so that my kids don't recognize what it is. The carbonara recipe will work fine without it, but for me, it just gives that added flavour and added vegetable to my kids' diet).
Add the bacon and saute for 1-2 minutes.
When the onions are translucent and bacon is cooked, turn the heat down to low, then add the cream/egg/parmesan mixture, continuously stirring to prevent the eggs from scrambling. Let the mixture thicken slightly (approximately 5 minutes).
Then add the cooked pasta into the sauce. Season with salt and pepper, as needed.
3. Fried Rice
I love making fried rice, especially when I have that odd 1 serving of leftover pork or chicken or sausage sitting in the fridge. I simply dice the leftover meat, sauté it with a bit of garlic (optional), add a cup of mixed vegetables (I always have frozen peas, corn and carrots in my freezer). I then add leftover rice. Once everything is well combined, I create a well in the wok or frying pan, break 1-2 eggs in the middle and continue mixing until the eggs are cooked and well distributed throughout the rice.
4. Noodle Soups
Although I try to limit the times my children to have those 2-minute microwave noodles, I do try to make it healthier by cracking an egg into the hot broth and noodles just before serving.
5. Apricot Chicken Curry
I have added chopped/finely diced boiled egg as a final touch to the sauce of this apricot chicken curry recipe. As a side note, this recipe is a great way to introduce the exotic taste of curry to a child. My kids particularly love this dish, because the sauce is a sweet, non-spicy curry.
Apricot Chicken Curry for Kids
A chicken curry for kids?! Yup, that's right! The sauce of this kid friendly recipe is sweet and mildly spiced so it is well accepted by little children (I speak from my experience with my own children here). I find that it is also a great way to introduce children to exotic Asian flavors. But best of all, this is a sort of cheat's recipe — very quick and easy to make. And if you plate it up in a nice bowl and garnish it with loads of almonds and coriander, this curry dish will surely impress adults as well.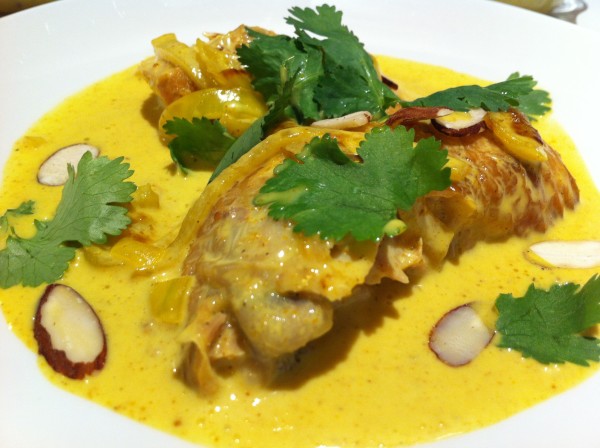 Ingredients:
1 whole roasted chicken, cut up (those store bought roasted chicken found in groceries)
2 onions, thinly sliced
2T. curry powder
1/4 cup apricot jam
2T. mayonnaise
300ml. cream
salt and pepper to taste
For Garnish:
Method:
Saute sliced onions in butter until translucent, approximately 2-3 minutes.
Add curry powder, apricot jam and mayonnaise, continuing to saute until well combined.
Add cream, then salt & pepper to taste. Allow the sauce to simmer for 1-2 minutes.
And there you have the sauce! Simply pour this delicious chicken curry sauce over the cut up chicken slices, making sure to coat every piece.
Garnish with loads of almond flakes and coriander. Enjoy!
Variation: Instead of chicken, you may also use 500g. of peeled prawns and add Asian vegetables to the dish, such as bok choy.
6. Chicken and Potato Bake
I have also added diced hardboiled egg into a chicken and potato bake, in between layers of thinly sliced potatoes and diced chicken, topped with a creamy sauce and cheese. My picky eater didn't even realize there was egg in there.
7. Baked Zucchini Muffins
I occasionally prepare zucchini muffins for my children to take to school for lunch. This recipe is packed with vegetables and eggs, but because it is in the shape of a muffin, and the ingredients are so finely grated or diced that they are hard to make out, it has been well received by my picky eater.
Baked Zucchini Frittata for Kids
This Baked Zucchini Frittata recipe is a very versatile dish that you can have at any time of the day. It's a nutritious and filling breakfast. It's a kid friendly recipe, so it's great to pack in a school kids' lunch box. It's a lovely dish to bring for morning or afternoon tea. And paired with salad, it's great to have for dinner too. This recipe freezes well, so I like to make the recipe in muffin cups. I freeze most of it, and take a few individual portions out as needed. This method makes breakfast preparation so easy. All I do is get however many I need from the freezer, pop them in the microwave, and breakfast is done. For the kids, I put frozen zucchini frittatas in their lunch boxes and it's thawed out by lunchtime.

Ingredients:
5 eggs
2 zucchinis
1 carrot
1 cup self raising flour*
1.5 cups shredded cheese
1 onion, chopped
200g. bacon, diced
salt & pepper
* If you don't have self-raising flour, an alternative is 1 cup plain white flour plus 1 tsp. baking powder.

Method:
Beat the eggs.
Grate zucchinis and carrots (or mince in a food processor). Add the veggies to the eggs.
Add flour, cheese, salt & pepper to egg mixture.
Saute onions and bacon until the onions are soft and bacon cooked through. Add this to the egg mixture.
Pour the mixture into 18 muffin cups.
Bake at 180 degrees for 25 minutes or until the egg has set.